9 Lives Are Not Enough!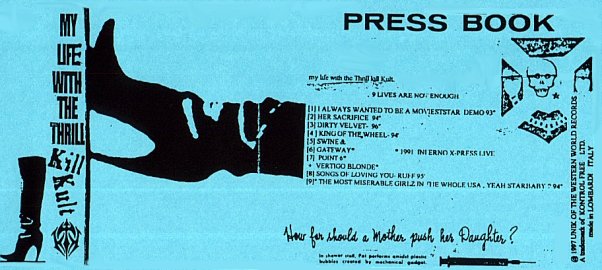 I recently got a little prezent from My Life With The Thrill Kill Kult which I am delighted to share with you. Some of these tunes are studio "scratch pads", and you'll recognize bits and pieces that turned up in songs that were later released on albums. Other tunes are live versions from various shows. Track 12, "I'm Electrik", is a studio demo from Groovy Mann's new side project "Hammerhead Housewife". Enjoy!
P.S. - [Warning: shameless name dropping alert] I talked to Buzz after the show in Washington D.C. in July; he says the new album (which is called "Luna") is in the can and ready to rock, and they are shopping for a new record label on which to release it. They played a few tunes from it at the show (one of which you'll find here), and it sounds like it's gonna be a killer. My fearless pick for the first single: "The Golden Pillz".